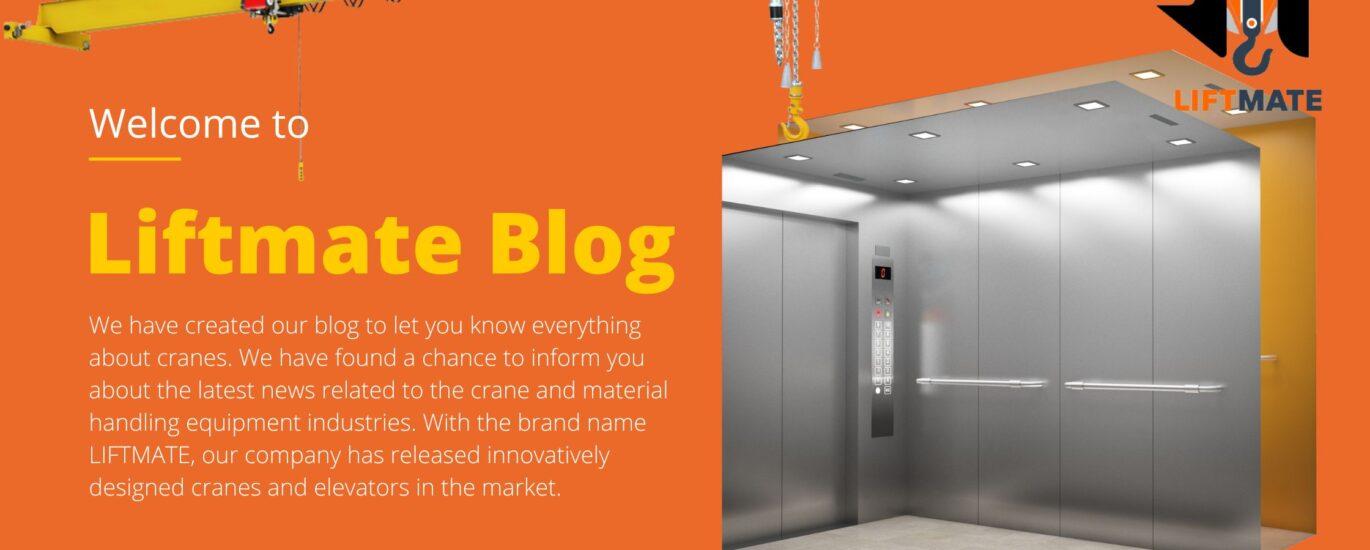 We have created our blog to let you know everything about cranes. We have found a chance to inform you about the latest news related to the crane and material handling equipment industries. With the brand name LIFTMATE, our company has released innovatively designed cranes and elevators in the market. However, we like to keep you updated with useful information on goods lifts, home elevators, cage lifts, passenger elevators, gantry cranes, overhead cranes, jib cranes, light profile cranes, winches, hoists of different models, and slings of different types, like slings, web slings, and chain slings.
With blogging, we want to develop a community where our engineers and material-handling equipment buyers can interact to get mutual benefits. Every time you read our blog posts, you will learn something new. However, we also encourage you to leave comments after going through our blogs. Our designers and engineers are enthusiastic to learning about your material handling equipment needs for industrial purposes. Thus, access our website, read our informative blogs, and browse through our catalogs.
We think that your feedback will help us manufacture better products and provide quality service. Based on your views and opinions, we will modify our lifts, cranes, and winch designs. As our blogs provide 100% open communication, we find an opportunity to learn about your preferences.
We post our blogs every week to talk about material handling systems, like elevators, cranes, hoists, winches, and trolleys. While providing a general description of lifts and cranes, we present you with a detailed comparison of their models. By learning the pros and cons of lifts and cranes, you may make the most informed decision. What's more, our blogs help you be familiar with relevant terminologies to make your purchase process easier.
Our blogs have covered various topics, including lift and crane designs, lift and crane components, coatings applied to them, lift and crane safety tips, and maintenance solutions. With our tips, you may make your elevators and cranes long-lasting.
We know that you would buy elevators/cranes to enable your workers to lift loads with minimal effort. That is why we encourage them to read our blogs to ensure safety during their crane operations.
At LIFTMATE, we are a team of engineers who have a love and passion for designing lifts and cranes. We love to have an open conversation about lifts and cranes. Our goal is to show you how our elevators and cranes are distinguished models in the market. But, our intention is not to defame and slander any person and product of other brands. Our accurate details on crane blogs will make potential buyers more informed. To be honest, we like to bring some facts in front of you. Cooperate with us, enjoy our blogs, and contribute responsibly.
Like any other sector, the material handling equipment manufacturing industry is evolving every year. Technology is getting more advanced, industries have more complicated needs, and thus, crane designs should have refinements. However, sometimes, it is not easy for users to operate the elevators and cranes of those new models. Thus, we have included some blog topics to guide you on how to use those modern elevators and cranes and get convenience.
Our team always stays focused on elevators and cranes and load-lifting industries. When we find some interesting information about elevators and EOT cranes, we add it to our blogs to give the best value to readers. While reading our blogs, you will learn more about lifts and cranes prototypes and new product launches. What's more, you will identify the technologies used for those lifts and cranes.
Thanks for visiting the LIFTMATE blog section. We hope that our blogs will increase your knowledge of elevator and crane systems. Subscribe to our website and find out what new information is available for you. We try our best to make our blog the most resourceful part of our website. When you cannot find your solutions in our blogs, you may directly communicate with our team.